'Tommorow is like today, just happens tomorrow.'
---
---
Now Salix looks better than my zw install:
]
- tint2 (with Borrominis tint2rc, thx)
- wbar
- conky
- stjerm
- 1-2 other conky instances still to come (weather, sysinfo)

---
My main desktop. It just about where I like it
"Don't you see that the whole aim of Newspeak is to narrow the range of thought?"
---
Great to see you like it

.
What is the yellow info on the desktop? A salix package feed?
If you want something to start out with for a conky weather applet, you can try
this conky configuration
. You'll need to install ConkyForecast first and set it up though.
This is how the weather info will look (my apologies for shamelessly plugging a non-Salix screenshot

):
Click the thumbnail to get the full size.
---
---
Looks promising

---
My current netbook screen:
EDIT:
openbox
tint2
pcmanfm
wallpaper from interfacelift.com (
http://interfacelift.com/wallpaper_beta ... tance.html
)
gtk theme: gotchione
---
awsome...and refreshing

---
Posts: 663
Joined: 24. Sep 2009, 17:07
Not as good as your's, but a first try to achieve it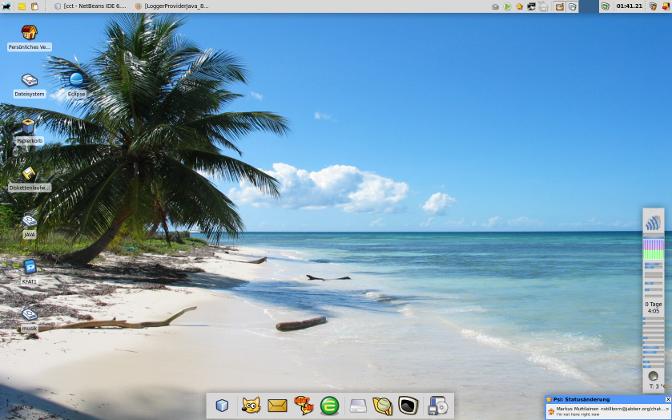 This is the oppinion of the author, it does not force you to share and is signed automatically.
You are free to keep them all errors for your own. Linux is the best game I ever played.
---